Salad of Lamb with Thai Flavours
An excellent healthy warm salad for mid-week dinners. Make a double batch to take for work lunch and bottle the dressing in a small container so your salad stays crunchy.
You can use a variety of other cuts of lamb for Salad of Lamb with Thai Flavours. Speak to your butcher or give juicy lamb neck fillets, lamb tenderloin, boneless lamb loin or lamb mini roast a try. You can also swap the lamb for chicken or other proteins of choice.
---
Ingredients − Serves 1
200 g Lamb Rump, slightly trimmed
2 tbsp coconut cream
1 tsp peanut oil
100 g green beans, trimmed and sliced diagonally
½ cup shredded red cabbage or carrots, or a mix of both
½ red capsicum, finely sliced
¼ cup each Thai basil, mint and coriander
1 banana shallot, finely sliced
Dressing
1 tbsp Latasha's Kitchen Chilli Oil
1 tbsp gluten free light soy
2 tbsp coconut cream
Juice of one small lime
½ small red chilli, finely chopped, or to taste
1 clove garlic, finely minced
Garnish
1 tbsp white sesame seeds, toasted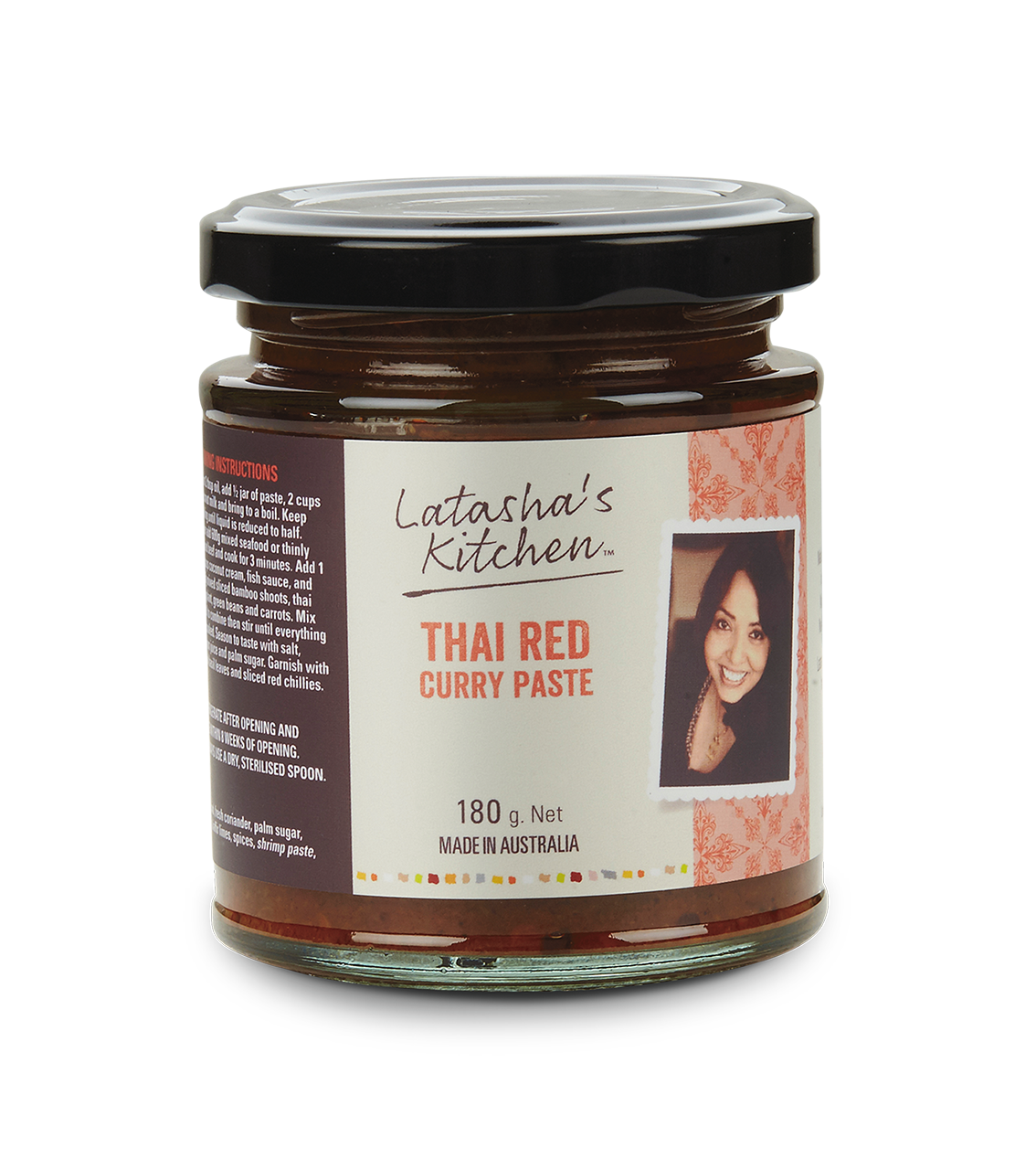 $18.90 – $113.40View / Buy Now
---
Method
Combine coconut cream and Latasha's Kitchen Thai Red Curry Paste then marinate lamb in this mix for 1 hour.
Pre-heat oven to 220˚C.
Heat oil in a frying pan over medium-high heat and brown lamb all over. Transfer to a baking tray, brush with any remaining marinade and roast until cooked to your liking (10-12 minutes for medium rare). Set aside to rest for 10 minutes.
While the meat is resting, cook the beans in a saucepan of boiling salted water for 2 minutes. Drain and transfer to a bowl of iced water to refresh for 1 minute, then drain again.
Place refreshed beans in a serving bowl then gently combine with the rest of the prepared vegetables and herbs.
Meanwhile in a jar, add all the ingredients for the dressing and shake to combine well.
Slice lamb across the grain and add to the salad. Drizzle with a small amount of the dressing and toss very gently to combine.
Serve with toasted sesame seeds and extra dressing on the side.
TIPS:
To help the salad stay crisp and retain the texture of the herbs, only drizzle with a small amount of dressing. Serve the extra dressing on the side.
This amount of dressing is enough for a double batch of the salad.
---