Rendang osso buco burger
A delightful sticky, meaty moreish beef burger guaranteed to send your guests into raptures. One you can make with no hassles in a slow cooker.
---
4 thick slices of osso buco beef
400 ml Ayam brand coconut milk
200 ml water, rinse out the coconut milk tin for more flavour
1 tbsp palm sugar, crushed
Oil
Burgers
Raw red salad onions, sliced into thick rings
Cos lettuce leaves
1 orange capsicum, cut into thick rings
4 poppy seed rolls
Leftover reduced sauce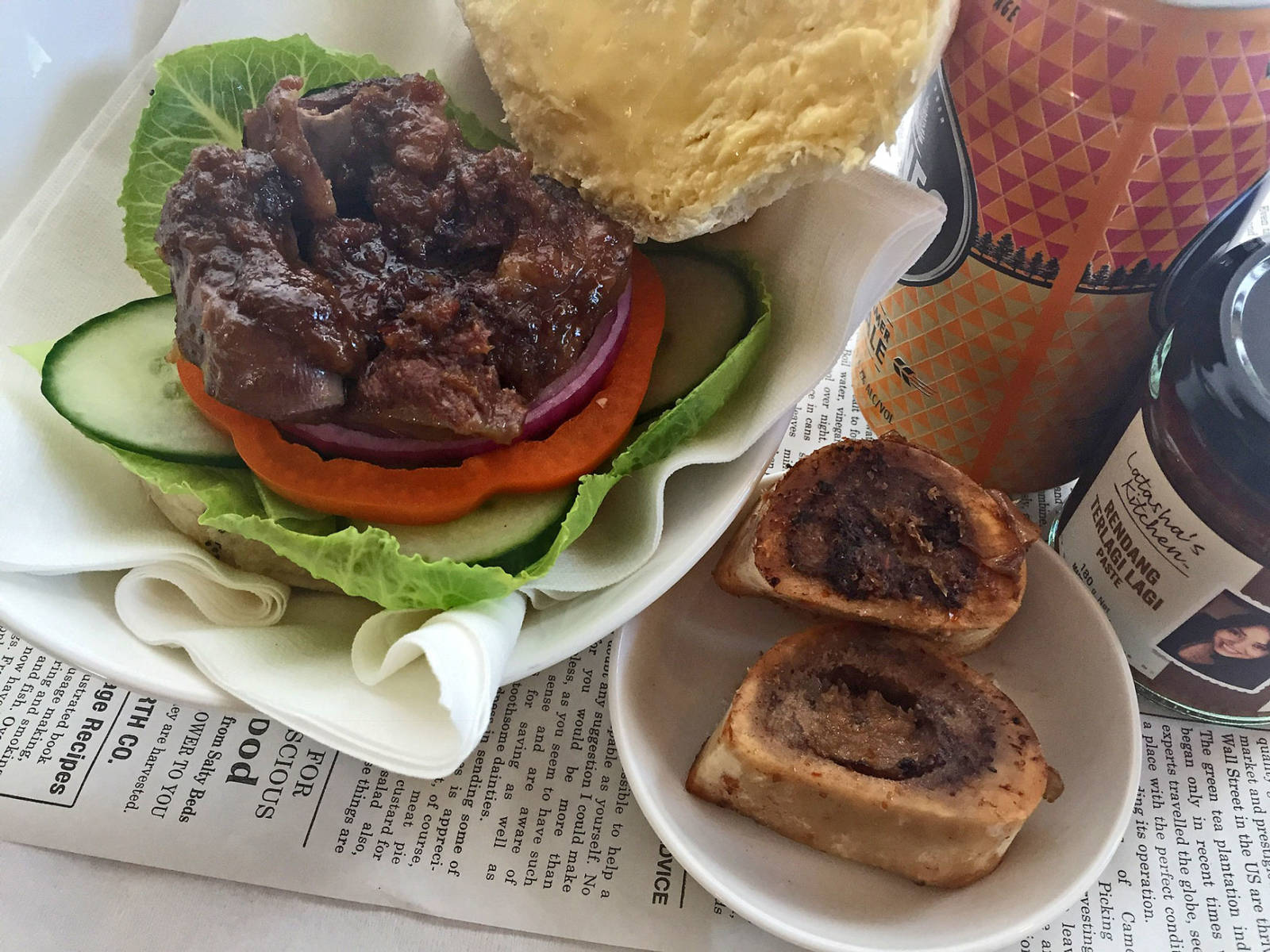 $18.90 – $113.40View / Buy Now
---
Method
Put oil in the base of the slow cooker. Add Latasha's Kitchen Rendang Terlagi Lagi Paste and allow to heat for 8 minutes on medium. Place the osso buco pieces in the slow cooker and brown on all sides for 5 minutes. Add coconut milk and water, bring to a quick boil. Then transfer slow cooker to it's base and cook on auto for 4 hours.
Remove the osso buco from the slow cooker and keep warm. Next reduce the sauce on the stove to a thick consistency and add palm sugar.
Assemble the burger by layering the lettuce, onion, capsicum and tomato on the bun before topping with some of the osso buco. Add a couple of spoonfuls of sauce over the meat.
Serve with the marrow bones on the side.
---
TIPS:
Osso buco

can be served with rice and a side salad.
If using veal

osso buco

reduce the cooking time to suit.
To give the dish even more flavour, try adding a bruised lemongrass stalk to the oil before heating the rendang paste.
If you would like the dish to be

spicier,

add a couple of birds eye chillies or fresh long red chillies.
A couple of toasted and ground shredded coconut strips (frozen or dry) added at the end of the cooking time, will add extra texture and nuttiness to the rendang.
---