NYONYA CURRY KAPITAN aka CAPTAIN'S CURRY
"A thick spicy chicken curry dish, broadly influenced in its spicing; Curry Kapitan conjures up some of the cosmopolitan atmosphere of old Malacca. It recalls the traditional role of the 'Kapitan China' as the functionary who stood between the Malay Rulers and the Chinese communities. The 'Kapitan' would have been a man of standing among both Malays and his own Chinese people; with considerable social mobility. 'Curry Kapitan' reflects this in culinary terms."
Rosemary Brissenden, author and publisher South East Asian Food
---
Ingredients − Serves 12
2 kg chicken, cut into chunks or use a mixture of thighs, wings, drumsticks
4 tbsp oil
3 lemongrass, bashed at the base
10 shallots, finely sliced
4 sprigs curry leaves
12 candle nuts, ground (purchase in Southeast Asian grocery stores)
½ tbsp toasted shrimp paste (belacan) or dried shrimp powder (purchase in Southeast Asian grocery stores)
Water to fill empty jar
1 heaped tbsp Kashmiri Chilli Powder
½ tbsp turmeric powder
12 kafir lime leaves, shredded
400 ml Ayam coconut cream
500 ml water
3 Royal Blue potatoes, quartered
Salt to taste
Juice of 1 lime
1-2 tbsp toasted ground coconut (kerisk)
2 heaped tbsp fresh/frozen grated coconut, toasted till golden crispy brown then ground with mortal pestle (kerisik)
½ cup tamarind juice (from 50 g dried tamarind pulp softened in hot water, then strained); or use 2 tbsp bottled store bought Tamarind Puree mixed with half cup warm water
Optional garnishes
2 whole garlic, sliced and fried crisp or use store bought
2 shallots, thinly sliced and fried crisp or use store bought
1 fresh red chilli, sliced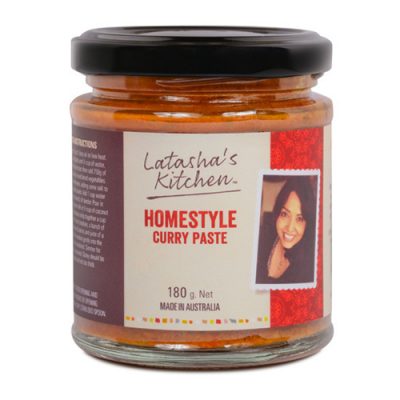 $18.90 – $113.40View / Buy Now
---
Method
In a large vessel of at least 5 litres capacity, heat oil, then add bashed lemongrass and fry until fragrant, approx. 5 minutes.
Add sliced shallots and curry leaves, and fry until fragrant and shallots are soft.
Next add ground candlenuts, shrimp paste/powder, cook for 5 minutes on medium heat.
Then add whole jar of Latasha's Kitchen Homestyle Curry Paste, Kashmiri chilli and turmeric powder and mix well. Fry for at least 3 to 5 minutes then fill empty paste jar with water, shake well and pour into the vessel. Cook on low for 15 more minutes until the mixture is quite pasty.
Add chicken pieces and sprinkle with some salt. Stir fry chicken for 10 minutes in the paste over fairly high heat.
Add lime leaves, tamarind juice, coconut cream and water and bring to a rolling boil.
At this point add in potatoes and simmer until chicken and potatoes are tender approx. 40 minutes.
Sprinkle with lime juice, toasted ground coconut and your preferred garnish.
---