Chicken in Green Curry
A vibrant rustic Indian chicken curry in a green smoothie sauce. Always a hit with customers at indoor tastings, it also works really well with our Korma Paste.
---
Ingredients − Serves 4
3 tbsp olive oil
1 leek, finely sliced
1 tbsp heaped Latasha's Kitchen Madras Curry Paste
½ tin Mutti brand cherry tomatoes
50 ml water
500 g chicken tenderloins, diced into chunks
1 x 400 g tin Organic Italian Lentils
1 large bag fresh spinach leaves, pureed
Salt to taste
1 tsp Latasha's Kitchen Garam Masala (optional)
Pinch of grated nutmeg
1-2 green or red chilies, finely chopped (optional)
1 tbsp lemon juice
2 tbsp melted ghee
Pouring fresh cream to serve or drizzle 2-3 tbsp Ayam coconut cream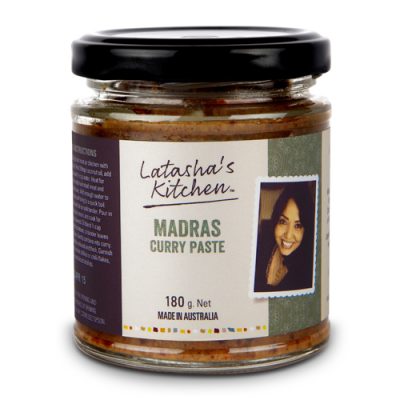 $18.90 – $113.40View / Buy Now
---
Method
Heat oil in a deep 2 litre saucepan.
Add sliced leeks, and when softened, add Latasha's Kitchen Madras Curry Paste, tinned tomatoes and water.
Cook over medium heat, stirring continually for around 10 minutes or more to release the flavours and to allow a thickish fragrant paste to form.
Now turn the heat to high, add the diced chicken and mix well to coat the paste, stirring constantly. Cook over high heat for about 4 minutes until the chicken is no longer pink. Mix in the tinned lentils and then pour in the pureed spinach.
Cover with a lid and simmer on low for 20 minutes until chicken is cooked and the sauce is bubbling away. Add garam masala, grated nutmeg, chopped chillies, and lemon juice.
Drizzle melted ghee over the top of curry and adjust salt as required.
Serve with your choice of cream or coconut cream.
---