Malaysian Satay Chicken Marinade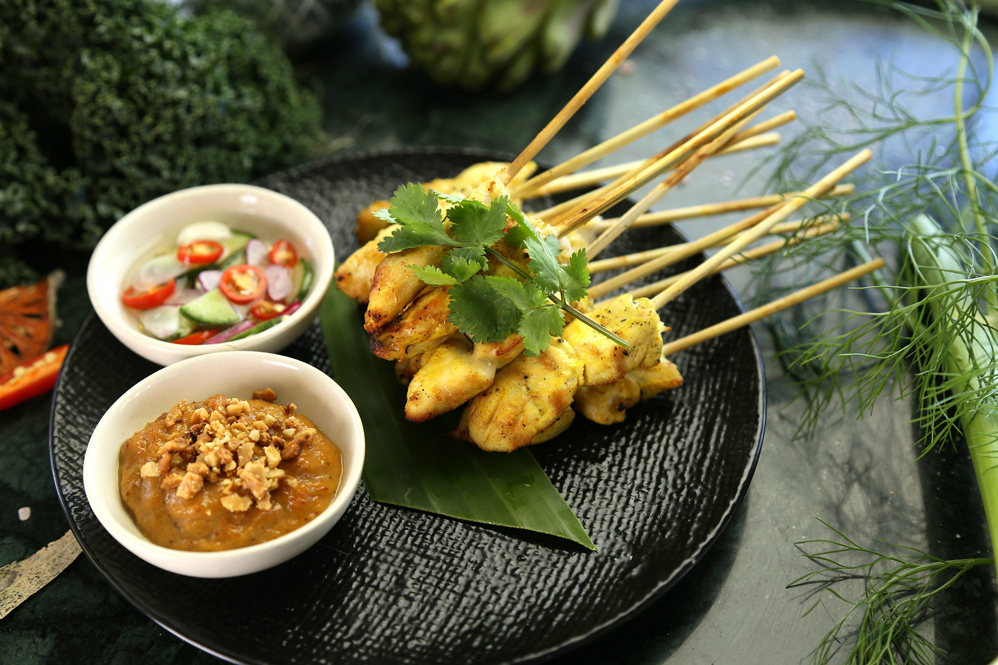 Latasha's Malaysian Satay Chicken Marinade is ideal to make when entertaining friends. It is super easy when cooking with your outdoor wood fired ovens, bbqs and grills. Marinate the chicken before cooking and it will be well seasoned. This recipe works for chicken skewers, chicken pieces on the bone and even 3 x 1.6 kg whole chickens.
Latasha's Kitchen Malaysian Satay Paste is made with fresh lemongrass, ginger, garlic and chillies combined with warm roasted crushed peanuts and hand blended spices – it's so versatile and sure to please.
---
Ingredients − Serves 12
3 kg boneless chicken thigh fillets with fat, cut each fillet into 8 long strips then 2 cm cubes*
1 tbsp crushed salt flakes
4 tbsp palm or dark brown sugar
1 cup light gluten free soya sauce
6 tbsp oil
40 g Latasha's Kitchen Turmeric Spice Magic (optional) you can use plain turmeric powder
200 ml Ayam coconut cream
Grilling and basting
120 bamboo skewers, pre-soaked for a couple of hours or preferably overnight.
4 stalks thick lemon grass, tied together. Crush the thicker end slightly and use as a basting brush.
½ cup coconut oil or more for basting
1 cup water
---
Method
In a mixing bowl, combine chicken thigh pieces with all the ingredients, up to and including the coconut cream.
Mix well, cover and leave to marinate in a refrigerator preferably for overnight or at least 6 hrs.
Thread approximately 5 pieces of chicken on each bamboo skewer, making sure the tip of the skewer is not exposed. Satay can be made up to this stage several hours ahead of actual cooking time. Keep refrigerated covered with cling wrap.
Prior to cooking, take satay out of the refrigerator and bring to room temperature.
Grill over glowing charcoal fire brushing and basting them lightly with a mixture of coconut oil and water as they cook, this keeps them moist and tender. Use bruised lemon grass as the basting brush.
Each stick will generally take about 2-3 minutes per side to cook. Satay can also be cooked on a lightly oiled grill pan, placed under a hot electric or gas grill or roasted in a hot pre-heated oven set at approximately 200°C.
Serve hot with our Buttery Spicy Satay Simmer Sauce as a dipping sauce or our milder Malaysian Satay Simmer Sauce or better still make your own peanutty dipping sauce by using  this super easy recipe I created.
Serve on a platter with sliced shallots, cucumber, pineapple and mini Malaysian rice cakes (ketupat) available from Southeast asian grocers.
TIPS:
* For entertaining, 3 kg = 15 

boneless

 chicken thigh fillets. Cut each fillet into 8 long strips and then dice each strip into 5 x 2 cm pieces = 40 pieces per fillet.
Instead of boneless chicken thigh pieces swap to 3 kg chicken thighs on the bone, or 3 x 1.6 kg whole chickens for a big gathering. Ensure the marinade is well spread under the chicken skin and in the cavity. Protect both wings and drumstick end joints with some foil. Recipe should work with duck and turkey as well. You will also get pleasant results if you wrap the bird in banana leaves or foil and steam bake it.
---