Madras Hot Pot Stew with Vegetables, Lentils and Beef Mince
Madras Hot Pot Stew is a complex, rich and flavourful stew. Simply brought together using bits and pieces from my dry pantry, freezer and vegetable crisper; plus a visit to my local butcher for some fresh lean beef mince.
This dish uses my Madras Curry Paste as a flavour base. I have also sprinkled in my Turmeric Spice Mix, but you can use any Indian curry mix you have.
It's so full of flavour and can be a life saver for mid week meals. Or when your family feel really run down and need some immune boosting, rich complex carbs and proteins. It's nourishing and can be eaten as a thick stew dolloped with sour cream or enjoyed with sourdough, naan, or fluffy rotis.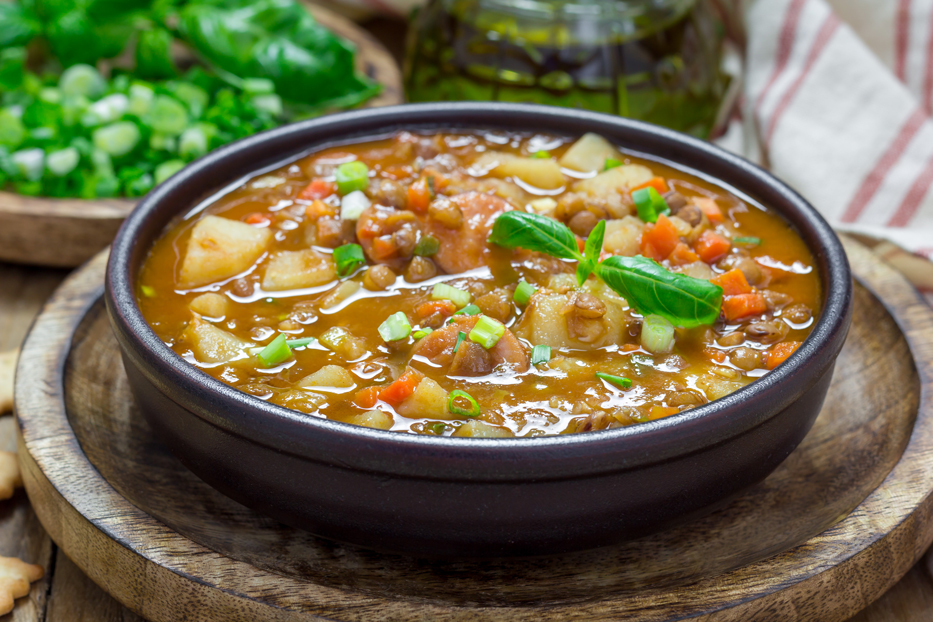 ---
Making Madras Hot Pot Stew
Some essentials are onions, spring onions, radish (daikon) and coriander roots minced together in a processor; then cooked off with olive oil which add lots of fibre and flavours to the base pot. Tins of quality lentils (brown, green, yellow) and a tin of mixed beans (chickpeas, pinto, butter beans, kidney beans) are also added. One tin of condensed tomato soup, and either mushroom or mixed vegetable soup work well in merging all the flavours together.
I normally opt for brands like Rosella and Amy's Kitchen for condensed vegetable or lentil soups. While for tinned lentils and pulses I use Global Organics who carry an array of brown, green and red lentils plus mixed beans. For the vegetables I tend to stick to a box of frozen kale or spinach and a bag of frozen green beans, diced carrots and peas. Then I simply add whatever other vegetables I have in my crisper. Silver beet that's languishing, Jerusalem artichokes that I forgot about, turnips, swedes, kohlrabi or cauliflower all work well. I use premium quality lean beef mince from the butcher, but you can certainly use beef short ribs instead.
---
Ingredients - Serves 8
4 tbsp olive oil
1 medium red onion, finely minced
6 stalks spring onions, green and white
1 small to medium radish, finely minced
Bunch of coriander roots
Salt to taste
1.2 kg premium lean beef mince
1 tbsp Latasha's Kitchen Turmeric Spice Magic  (optional, use whichever curry mix blend you have in your pantry)
1 small box chopped spinach or kale, Logan's or Bird's Eye
1 tin Rosella condensed tomato soup or use Amy's Kitchen tomato soup
1 tin Amy's Kitchen vegetable soup or mushroom soup
1 tin each Global Organics brown lentils, green lentils and 4 bean mix, rinsed and drained
150 ml of water plus an additional sprinkle of water
1 x 500 g frozen mixed diced vegetables − green beans, carrot and peas
Mix of 500 g fresh vegetables − cauliflower, potatoes, eggplant, tomatoes, all diced
Garnish
Juice of ½ lemon
Store bought fried onions (optional)
Large handful of fresh coriander, chopped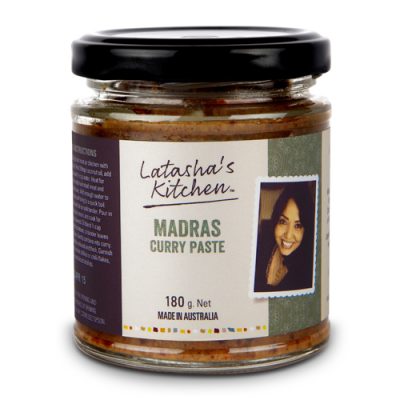 $18.90 – $113.40View / Buy Now
---
Method
In a processor, add chopped onions, spring onions, radish and coriander roots and mince well.
In a 5-litre deep stockpot, add oil.
When hot add minced vegetables from Step 1 along with a good pinch of salt and cook until all the juice evaporates from the minced vegetables, about 15 minutes.
Next add Latasha's Kitchen Madras Paste, a sprinkle of water and cook until the paste is well mixed in with the minced vegetables.
Then add minced beef and brown well in the paste. Add Latasha's Kitchen Turmeric Spice Magic or any other curry blends and mix in well with the meat.
Once the meat is coloured to a dark brown add the tomato soup, vegetable soup, frozen vegetables, fresh vegetables, lentils and mixed beans. Add in some water too and bring to a gentle boil then add some salt.
Simmer the stew on low to medium heat with a lid on for 2 hours until the oil floats to the top. If using a slow cooker pop it on low and allow it to simmer for at least 5-6 hours.
Squeeze over the lemon juice and garnish with fried onions, coriander leaves.
Serve with sour cream in a bowl or with a side of sourdough, fluffy rotis, or naans.
---