Madras Cauliflower with Truffle Mustard
A hearty dish with big flavours coming from the use of our concentrate Madras curry paste combined with bold rich truffle mustard.
---
Ingredients - Serves 4
1 kg cauliflower, keep any tender leaves, remove all the stalks and chop into small pieces. Discard the middle stem. Break the cauliflower into uneven chunky florets with your hands or use a small knife.
75 g ghee or coconut oil, melted
6 sprigs fresh curry leaves – leaves removed and finely shredded
1 brown onion, finely sliced
2 garlic cloves, finely chopped
1 long green chilli, thinly sliced
Salt to taste
2 heaped tbsp truffle mustard cream
⅓ cup water
200 gm Mutti brand cherry tomatoes
1 cup frozen peas
200 ml Ayam coconut cream
For Serving – steamed red rice, red onion raita and lime wedges.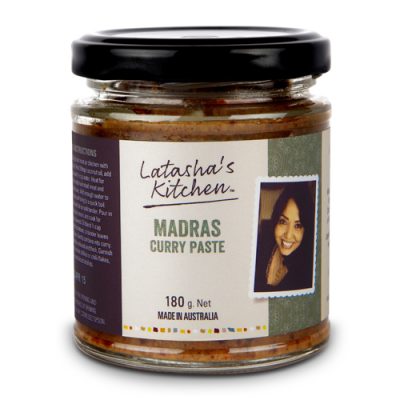 $18.90 – $113.40View / Buy Now
---
Method
Bring water to a boil. Place whole washed cauliflower into the water carefully and parboil for 5 minutes. Drain and leave to cool slightly
Meanwhile pre-heat the oven grill to high.

Break cauliflower into various shaped cauliflower florets, and dice stems and tender leaves and keep separate. In a bowl toss the florets with half the melted coconut oil and season to taste. Then repeat in the same bowl with the stems and leaves. Spread out on a lightly greased oven tray and grill, turning occasionally, until golden and slightly charred (20 minutes – bigger pieces might need the extra 5 minutes). Keep checking as the diced steams and leaves may need to be removed earlier than the florets. Set aside small leaves for garnish.

Meanwhile, heat remaining coconut oil in a large deep fry pan over medium-high heat. Add shredded curry leaves and fry until aromatic (about 30 seconds) then add onion, garlic and chilies. Next add a good pinch of salt and cook, stirring occasionally until it's soft, golden and caramelised (8 minutes).
Then add Latasha's Kitchen Madras Curry Paste, mustard cream and water, and stir until fragrant (4 minutes). Next add tinned tomatoes and frozen peas and mix well. Pour in coconut cream, bring to a gentle boil then simmer until slightly reduced and flavours developed (6-8 minutes).
Place grilled cauliflower florets,

stems and large leaves in

to the mustardy madras sauce and stir for around 4-5 minutes, until heated through.
Check seasoning.

Garnish with small cauliflower leaves and

serve with steamed red rice, red onion raita and lime wedges.
TIP: It tastes even better if cooked ahead and reheated to serve.
---