Laotian Curry Chicken with Bamboo
Laos did not escape curries! This is a wonderful big pot of curry, that yields plenty of flavour with minimum effort. Great to cook in a big batch and enjoy as leftovers.
Curry is not typically considered a Laotian speciality. However as Laos borders Thailand and Vietnam amongst others; flavours are carried across the borders. Recipes are thus easily adapted with local ingredients.
I love making this version of a Curry Chicken; as you can vary the vegetables used from long green snake beans, carrots, cauliflower, eggplant or even gourds like choko and ridge gourd. Sometimes I even change the curry paste to my Thai Red Curry Paste and use paprika powder instead of the Turmeric Spice Magic to bring about a reddish colour. And of course you could also change the meat proteins to pork or duck.
---
Ingredients − Serves 6
6 boneless, skinless chicken marylands, chopped into chunky pieces
3 tbsp neutral oil
Ingredients A
1 large brown onion, chopped

6 kaffir lime leaves, finely shredded

3 cm galangal, sliced

2 cloves garlic, minced

2 lemon grass, white section bashed
---
400 ml Ayam coconut cream
4 potatoes, quartered
2 tsp sea salt
1.25 litres water
½ cup bamboo shoots, sliced
½ cup garden peas
½ head broccoli, cut into florets
1 medium carrot, cut into small chunks
2 tbsp fish sauce
2 fresh red chillies, sliced
Bunch of Thai basil, stem and flowers removed, leaves chopped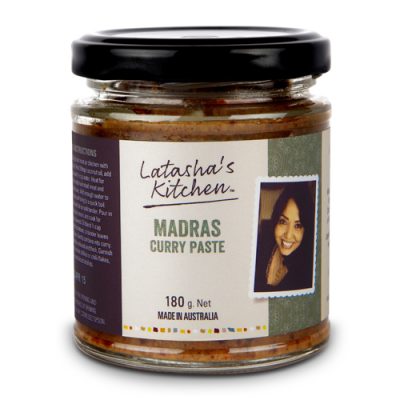 $18.90 – $113.40View / Buy Now
---
Method
Marinate chicken in Latasha's Kitchen Turmeric Spice Magic for at least an hour.
In a large pot, add oil, then Ingredients A and cook until fragrant and onions are translucent, approximately 12 minutes.
Next add 200 ml of coconut cream and Latasha's Kitchen Madras Curry Paste. Cook for 10 minutes on low until well combined.
Then add in the chicken and brown in the paste for 5 minutes. Next add the potatoes, salt and all the water. Bring to a boil then simmer with a lid on for 40 minutes. At this stage add the bamboo shoots, peas, broccoli, carrots, fish sauce and the remaining coconut cream.
Cook on gentle heat without a lid until the broccoli is cooked then mix through the fish sauce, Thai basil and sliced red chillies.
---