LAMB AND POTATO MASSAMAN CURRY
A delicious classic Massaman Curry usually made with beef or lamb. Our Thai Massaman Curry Paste is Persian influenced with origins from Southern Thailand amongst a heavy Muslim population. It is dense, hearty and nutty with a mild, slightly sweet taste great for stews. Our paste contains whole spices such as cinnamon, nutmeg and cardamom and some peanuts.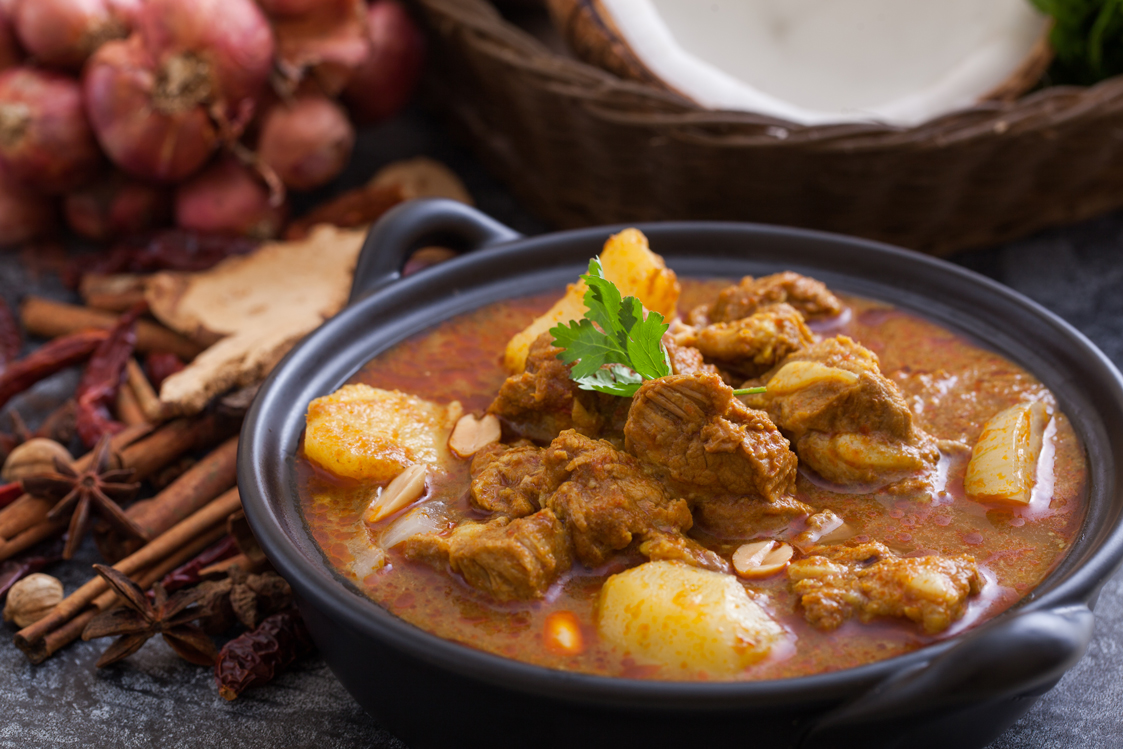 ---
Ingredients − Serves 8 for main / 10-12 as a side dish
1.5 kg lamb shoulder, diced
Salt and pepper, to season diced meat
2 tbsp rice flour
4 tbsp olive oil
2 red onions, minced
1 stalk lemongrass, trimmed and lightly bashed
1 cinnamon stick
1 star anise
1 bay leaf
3 royal blue potatoes, quartered
180 ml water
2 red chillies, halved lengthwise (optional)
400 ml can Ayam coconut milk or cream, according to preference
1 cup homemade or store-bought chicken stock
Sea salt to taste
Mix together in a bowl
1 cup natural pineapple juice
2 tbsp lime juice
2 tsp palm sugar, crushed or grated
2 tbsp Pic's or Mayers Crunchy Peanut Paste
Garnish
Sliced red chillies, coriander leaves, crushed peanuts and fried shallots (optional)
$18.90 – $113.40View / Buy Now
---
Method
Place lamb along with rice flour, salt and black pepper in a large snap-lock bag. Seal bag then thoroughly shake to coat the meat all over.
Heat 2 tablespoons of oil in a large frying pan over medium heat. Brown meat in a couple of batches until lightly caramelised all over. Keep aside.
Next heat remaining 2 tablespoons oil in a 4-5 litre casserole or Dutch oven pot over medium heat on the stove. Add onion, lemongrass, cinnamon, star anise and bay leaf and cook stirring until onion caramelises.
Then add Latasha's Kitchen Thai Massaman Curry Paste, red chilli and water. Cook for 8-10 minutes on gentle heat until fragrant and sauce is reduced. Add browned meat and potatoes. Mix well then add stock, coconut milk and salt to taste. Bring to a quick rolling boil, then reduce heat and simmer for 45 minutes with lid on.
Add combined pineapple juice, lime juice, palm sugar and peanut paste mixture, stir well; being careful not to mash the potatoes. Continue to simmer for another 20 minutes with lid on until lamb is tender and gravy is thick and reduced.
Garnish with red chillies, coriander, peanuts and fried shallots. Serve with steamed jasmine rice and green beans.
TIP:  You can use sweet potato for this recipe. Roast chunky cut sweet potatoes separately and add at Step 5. Instead of salt, you can use 1 tablespoon each of Gluten Free Soy Sauce and Gluten Free Fish Sauce available from good Southeast Asian stores.
---