Wagyu Beef Cheeks in Red Curry
I was rather surprised at the price of beautiful tender wagyu beef cheeks, at my local butchers. I imagine it's most likely due to consumers feeling uneasy to tackle this challenging cut of meat.
I recently developed Wagyu Beef Cheeks in Red Curry for a cooking class. It wasn't difficult, provided you have a large enough casserole style dish, with a tight-fitting lid. The result was deeply rich and tender, falling-apart meat. The beef cheeks had the opportunity to slowly soak up all the wonderful flavours in the braised spiced coconut broth. A most indulgent dish, dark and sticky, and meltingly tender. Spicy, but with a wonderful balance of sweet flavours coming from the beef, sweet potato and coconut cream.
---
Ingredients − Serves 8
2 tbsp peanut oil
1 whole brown onion, finely minced
3 cloves garlic, minced
3 bay leaves
5 Kaffir lime leaves, shredded
Green parts of a small bunch of spring onions, blended/pureed
Stems and roots of a bunch of coriander, finely minced or blended. Keep the leaves for garnishing.
60 ml water
1.5 kg diced wagyu

beef cheeks

1 large sweet potato, (500 g) peeled and

cut into chunks then oven roasted until just cooked

400 ml coconut cream
800 ml water
Salt to taste
1-2 tbsp palm sugar, as preferred
Juice of ½ a lime
Garnish
Bunch of coriander leaves, chopped
Thai basil
2 tbsp or more store bought fried shallots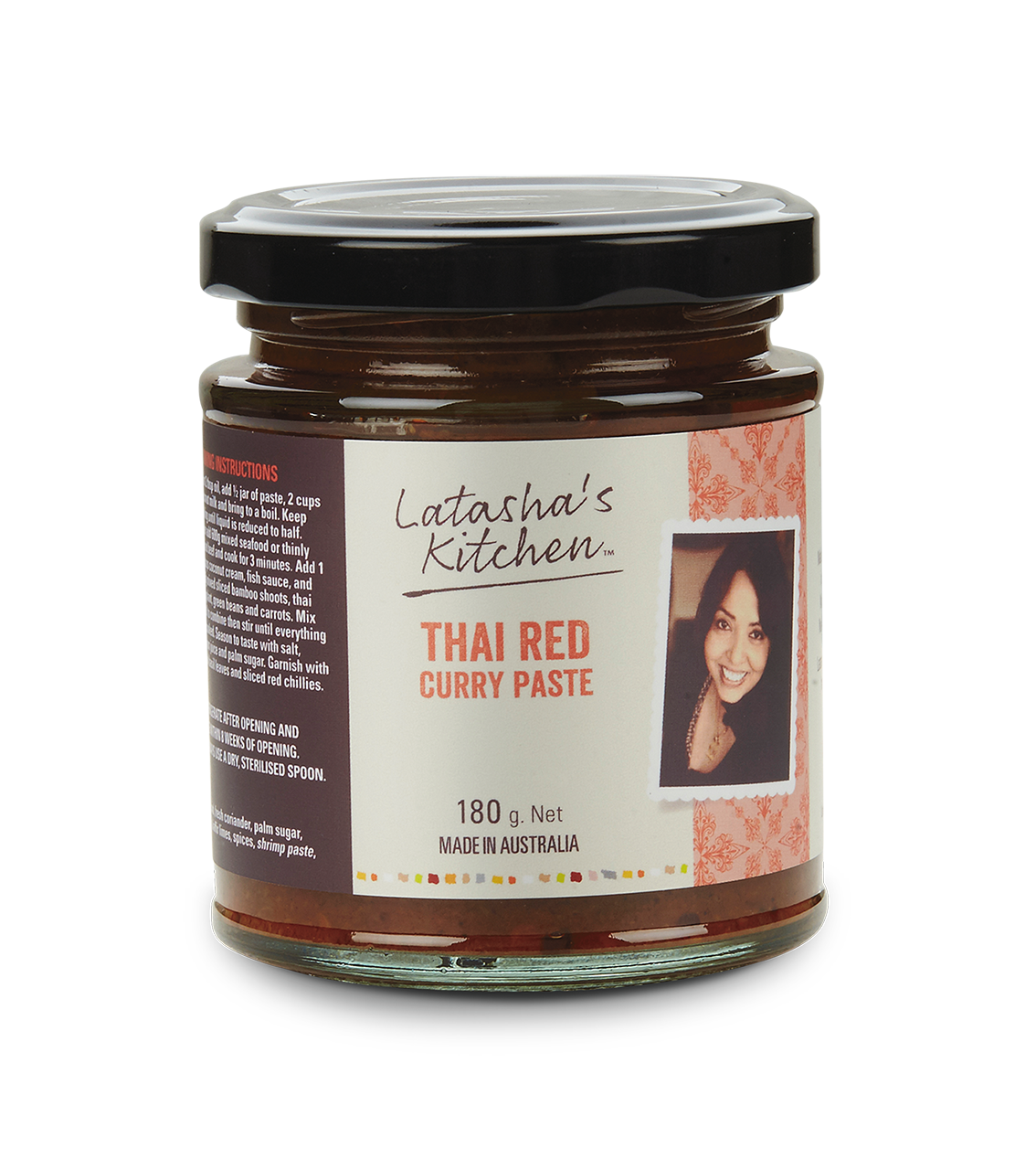 $18.90 – $113.40View / Buy Now
---
Method
Heat oil, add onions, bay leaves and shredded kaffir lime leaves. Cook for 10 mins with a pinch of salt until caramelised.
Add blended/pureed spring onions and coriander stems and roots and cook for another 5 minutes.
Then add Latasha's Kitchen Thai Red Curry Paste and 60 ml water and cook until fragrant for approximately 10 minutes.
Add beef cheeks and coat with the paste on medium heat for 10 minutes. Add coconut cream, water and bring to a boil. Cook for a couple of minutes then add a pinch more salt, reduce heat to simmer, cover with the lid and simmer on medium-low heat for 2½ hours.
After that add roasted, chopped sweet potato and cook for another ½ hour covered, until the sauce has reduced and thickened.
Stir in the palm sugar and juice of ½ a lime. Garnish with coriander leaves, plenty of Thai basil and scatter the fried shallots all over.
Notes:
The green portion of spring onions are tasty when used as an ingredient to thicken curries. Similar to the way onions are used, they add fibre and texture to a variety of South Indian and Southeast Asian curries. I like to mix onions and spring onions together in a pot and use it this way.
Blended spring onion freezes well which is also a bonus. When plentiful, simply trim away any excess limp parts − wash well − then chop and blend to a puree. Freeze puree in small containers or zip lock bags, then simply add with diced onions to your pot when you are cooking curries.
---