Takali (Tomato) Beef Madras Stew
Create a beautiful aroma in your kitchen with this simple recipe for an Indian inspired spicy beef tomato stew. Make an extra batch or two of Takali Beef Madras Stew, as it freezes really well.
---
Ingredients − Serves 4
3 tbsp coconut or olive oil
2 sprigs curry leaves
4-6 dried chillies, chopped into 3 pieces each (with or without seeds, according to preference)
1 onion, peeled and diced
3 cloves garlic, lightly pounded then minced
⅓ cup water
650 g gravy beef, diced for casseroling
1 tsp peppercorns, crushed
1 tbsp tamarind pulp (or use 2 tbsp lemon juice)
400 g can Mutti diced tomatoes in juice
150 ml extra water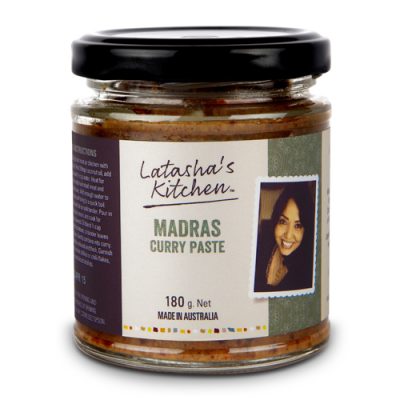 $18.90 – $113.40View / Buy Now
---
Method
Soak the tamarind pulp in ¼ cup warm water for 5 minutes. Knead to a slurry and strain, discarding the pulp.
Add oil to a large lidded frying pan or casserole. Add curry leaves and dried chillies, toss well and when fragrant, add onions, a pinch of salt and cook until caramelised. Next add in crushed minced garlic and cook for 3-4 minutes.
Add Latasha's Kitchen Madras Curry Paste, ⅓ cup water and cook this mixture for 5-8 minutes on low. Then add the meat and brown in the paste over medium heat. When the meat is no longer pink, add the tinned tomatoes and 150 ml water and bring to a quick boil. Lower the heat, cover and simmer on gentle temperature for 1½ hours or until tender.
Now stir in the tamarind water or lemon juice, and crushed pepper and cook on high until all the liquid has reduced and evaporated to a thickish mixture. Season with salt.
Serve with your favourite Indian accompaniments such as rice, breads, salad, raita, pickles and pappadums.
TIP: You can also cook this dish in a slow cooker for 6-7 hrs on low, omitting all the water. Alternatively, at Step 3, after bringing it to a quick boil, cook the dish covered in a pre-heated oven set at 140ºC for 2 hours or until tender.
---