ROGAN JOSH POT PIES
Rogan Josh Pot Pies are the most gorgeous little pot pies perfect for a cozy night in front of the TV. They are filled with delicious morsels of succulent lamb cooked in our delicious Rogan Josh concentrate paste; and covered in beautiful golden pastry. This is one that might just become your family favourite.
---
Ingredients − Serves 4-6
1 kg lamb shoulder, diced
1 onion, diced
Salt to taste
1 tbsp oil
2 bay leaves
2 cups water
1 tin 400 g Mutti diced tinned tomatoes
1½ tbsp cornflour
4 tbsp sour cream or full fat natural Greek yoghurt
½ cup frozen peas
1 sheet puff pastry
1 egg yolk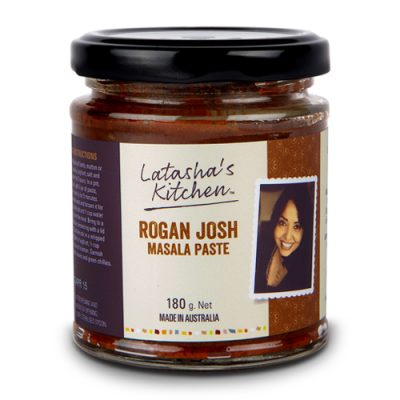 $18.90 – $113.40View / Buy Now
---
Method
Pre-heat oven to 180

˚C.

Marinate meat for 1 hour in Latasha's Kitchen Rogan Josh Paste and sour cream or full fat natural yoghurt.
Heat oil in a heavy based pot and sauté onions with a pinch of salt until soft. Add bay leaves, the marinated meat and all remaining marinade. Stir over high heat for 5 minutes until meat is no longer pink. Add the water and tomatoes, bring to a rolling boil then lower the heat, cover and simmer for 1 hour 15 minutes or until the meat is tender. Mix 2 tbsp warm water with the cornflour and stir to make a smooth paste. Add to the pot and simmer for 5 minutes without the lid or until the sauce thickens. Stir in peas.
Spoon the mixture evenly into 4 large ramekins. Cut out 4 pastry circles to fit the tops of the ramekins. Brush egg yolk around the rim of the ramekins and cover with the pastry circles, pressing gently to seal. Brush the top of the pastry with the remaining egg yolk.
Cook in the oven for 15 minutes until the pastry is golden brown.
Serve with steamed new potatoes and a crispy green salad.
---