Palak Paneer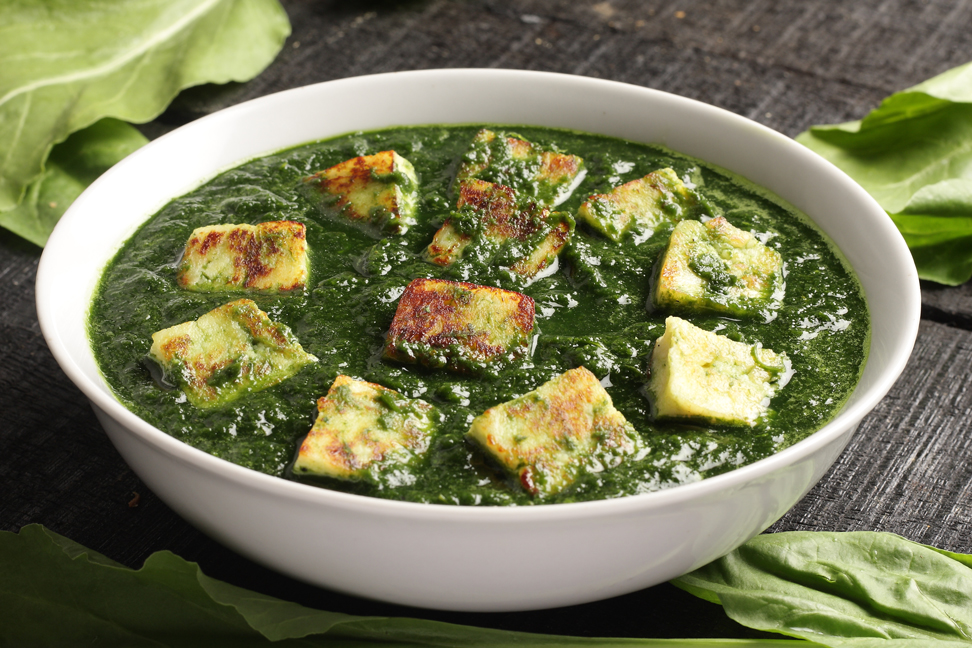 Palak Paneer is a popular Indian vegetarian recipe. It is a delicious combination of Indian cottage cheese (paneer) and creamy spinach gravy; flavoured with a range of spices including ginger, garlic and garam masala.
For the best results and when you have the time, use my easy recipe to make the paneer yourself.
---
Ingredients
3 tbsp mustard oil
2 tsp fennel seeds
Pinch of asafoetida
1 brown onion, crushed
1 tsp fenugreek seeds, soaked in water
1 tbsp fresh ginger paste
1 tbsp fresh garlic paste
2-3 green chillies, seeded and crushed
½ tsp medium hot chilli powder
1 tsp ginger powder
½ tbsp ground coriander
½ tbsp cumin powder
½ tbsp fennel powder
350 g frozen loose cut spinach leaf
1 cup grated Chinese radish (daikon)
⅓ cup whole milk
200 g homemade Paneer cheese or baked ricotta cut into 2.5 cm cubes, and lightly fried
½ cup water or more as required
1-2 tsp Latasha's Kitchen Garam Masala
Pinch of grated nutmeg
Lemon juice
¼ cup cream, whisked
Ghee for drizzling
$22.90 – $137.40View / Buy Now
---
Method
Heat a pan over medium heat. Add oil and fennel seeds, cook for 30 seconds. Add asafoetida, onion and fenugreek seeds and cook for 15 minutes or until translucent.
Add garlic, ginger, and green chilli paste – cook for five to ten minutes.
Add chilli, ginger, coriander, cumin and fennel powders and some salt to taste. Cook for a further 10 minutes. Add grated radish and cook for 5 minutes. Then add spinach and mix well. Sprinkle with ½ cup of water to keep the mixture loose but not watery. Simmer for 15 minutes.
Cool slightly, then blend with milk and simmer on low heat.
Add paneer, Latasha's Kitchen Garam Masala, a pinch of nutmeg and lemon juice. Stir and cook for a few minutes or until the mixture is thick and creamy. Stir through the whisked cream and drizzle with ghee.
PS: if you can find frozen fenugreek in an Indian grocery freezer section, add one or two cubes when cooking the spinach for an added flavour boost.
---