Homestyle Goat Curry
Goat never tasted so good. This incredibly easy recipe will work with any meat but if you love the sweet flavour of goat meat and especially goat meat on the bone, I guarantee you will love this. Our versatile Latasha's Kitchen Homestyle Curry Paste makes awesome meat curries as well as omelette, vegetarian or tofu and tempeh curries.
---
Ingredients − Serves 8 to 12
4 tbsp olive oil
3 brown onions, finely sliced
1 jar Latasha's Kitchen Homestyle Curry Paste plus 1 jar water
3 fresh ripe tomatoes, thinly sliced
2 kg chunky goat meat, diced on the bone. I used goat from Mundillya Meats − available from Stirling Farmers Market
Salt to taste
1 x 400 g can Mutti brand cherry tomatoes
3 cups water
5 Royal Blue potatoes, scrubbed and quartered
1 x 400 ml can Ayam brand coconut cream
Garnish
3 sprigs curry leaves or coriander leaves
1-2 tsp Latasha's Kitchen Garam Masala
Green and red chillies, split in two
Juice of half a lemon − optional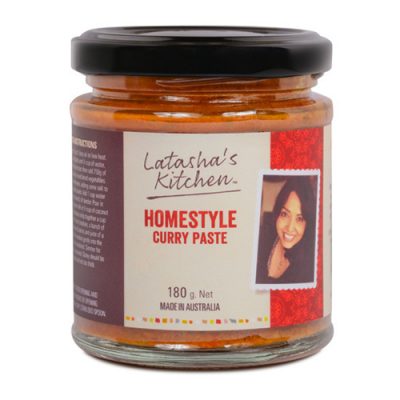 $18.90 – $113.40View / Buy Now
---
Method
In a heavy based pot, add oil, and when hot add sliced onions. Cook for 10 minutes on low until onions are sticky and caramelised.
Next mix in the jar of Latasha's Kitchen Homestyle Curry Paste and the jar of water. Cook on low to medium heat for 10 minutes or until most of the water has evaporated. Add the sliced tomatoes and cook for another 5 minutes.
Now add the goat pieces. Turn heat up to high and coat the meat in the paste for approx. 5 minutes then lower the heat to medium and keep frying for another 10 minutes until it is well coated and sealed.
Next add salt, tinned tomatoes, 3 cups of water and bring to a rolling boil. Turn the heat to medium-low and simmer for 30 minutes. Add potatoes, coconut cream and bring quickly to the boil before lowering the heat and gently simmering for 45 minutes, with a lid on.
Garnish with coriander or curry leaves, chillies and sprinkle with Latasha's Kitchen Garam Masala.
Serve with pilaf rice.
---