BALTI CHICKEN TIKKA MASALA
A balti curry is first cooked over a high flame with spiced fresh meat and vegetables; then cooked again with extra spices; before being served in the traditional round-bottomed balti dish.
There are so many ways of preparing a Balti Tikka Masala and this version is perfectly wonderful and memorable. Tikka masala sauce typically includes tomatoes (frequently puréed), yoghurt, cream or coconut cream and aromatic spices. The chicken pieces are well coated with the sauce and the colour of the dish is often bright red or orangish with most restaurants resorting to the use of turmeric, paprika, tomato purée, food dyes and colouring to achieve this appetising bright look.
You can also swap our suggested Tikka Masala Paste for Latasha's Kitchen Tandoori Masala (or even combine the two); resulting in an equally refreshing and delicious balti curry.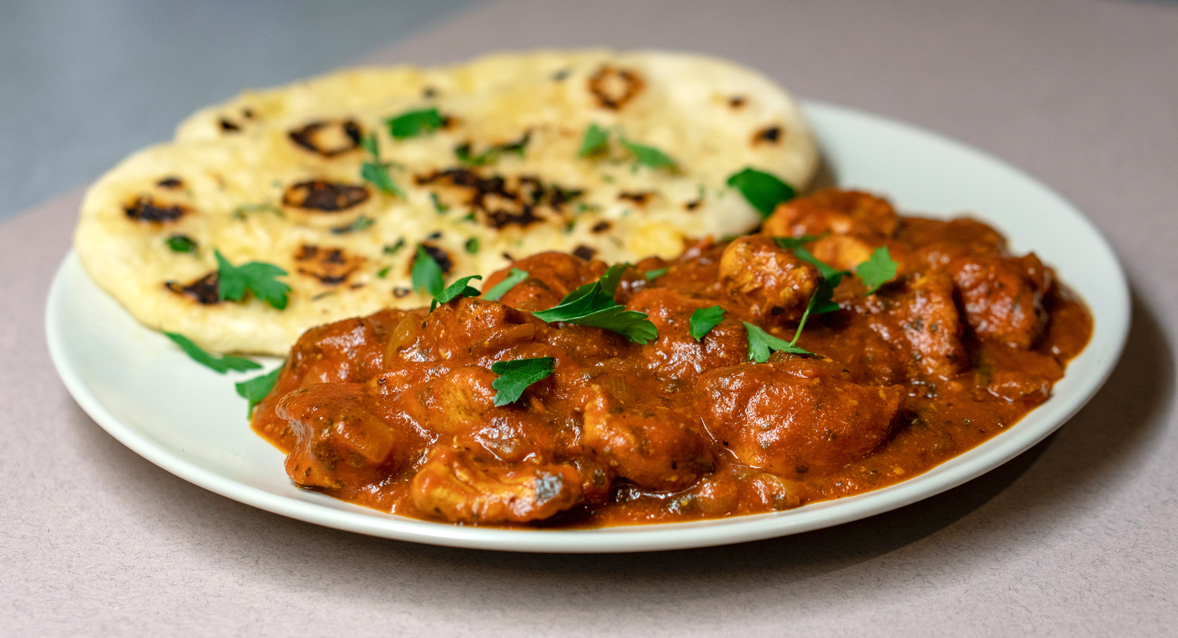 ---
Ingredients − Serves 4
4 tbsp oil
2 small brown onions, minced
1 tsp ginger paste
1 tsp garlic paste
2 medium, ripe red tomatoes – puréed
2 small green chillies, split in half
½ tsp Latasha's Kitchen Garam Masala Powder or make your own from recipe provided*
Pinch of salt
1 tsp Kasuri Methi (dried fenugreek leaves), lightly toasted then ground
1 medium red onion – cut into 8

wedges to resemble petal shapes

1 large ripe red tomato, diced
½ cup water
For marination
700 g chicken thigh cutlets, bone-in, each cutlet cut into 4 pieces
TIP: This is often called 'curry cut pieces' because having the bone imparts flavour to your dish.
Yogurt mix – whisk in a bowl
3 tbsp full fat natural yogurt, whisked
½ tsp turmeric powder
1 tsp red Kashmiri chilli powder
½ tsp coriander powder
½ tsp cumin powder
Garnish
1 tbsp ghee for drizzling (optional)
1-2 tsp grated jaggery or soft brown sugar for sprinkling
2 tbsp coriander leaves, chopped
---
Make your own Garam Masala*
50 g coriander seeds
10 g black cardamom
12 g green cardamom
12 g black peppercorns
10 g cloves
10 g cinnamon sticks, broken

into small pieces 

10 Indian bay leaves
8 g mace
6 g nutmeg
---
Method
Prepare ahead
Marinate chicken in Latasha's Kitchen Tikka Masala Paste. Set aside for 30 minutes.
Mince the two small brown onions an

d cut red onion into wedges to resemble petal shapes. 

Make a purée with two ripe red tomatoes and dice the remaining tomato.

Make yoghurt mix by combining the whisked yoghurt and spices.

Split the green chillies and chop the coriander leaves.
---
Balti Chicken Tikka Masala
Heat oil in an Indian iron wok (kadai). Add the minced onions and fry for around 10 mins until light brown.
Add the ginger and garlic paste and fry for around 2 mins till aromatic.
Stir in the tomato purée and add a pinch o

f salt, then

fry until the mixture is thick and paste like.
Now lower heat and add the yoghurt masala mix carefully, one tablespoon at a time incorporating it into the mix without curdling. Mix well, stir and cook for 5-6 mins until the oil separates and mixture is thick and glossy.
Now add the marinated chicken and fry on high heat for 3-4 mins, aiming to coat all the chicke

n in the sauce.

Stir in Latasha's Kitchen Garam Masala and cook on medium heat for 5 mins.
Then add ½ cup water, cover and simmer for 15 minutes.
Add red onion petals, green chillies then cover and cook for 5 mins.
Mix in toasted ground Kasuri Methi and

diced 

tomato then cook for 3 mins on low heat.
Sprinkle with jaggery, drizzle over ghee and garnish with chopped coriander leaves.
Serve hot with roti or rice.
---
Make your own Garam Masala 
In a frying pan add the coriander seeds and lightly toast on low heat for 4 mins. Remove and allow to cool.
Add black and green cardamom, black peppercorns, cloves, broken cinnamon sticks and nutmeg to the pan then dry roast on low heat for 5 mins stirring all the time to roast them evenly.
Crush the bay leaves and mace and add them to the pan. Mix well and continue roasting on low heat for one more minute.
Remove to a plate and allow to cool.
Bottle into a glass jar and store away from sunlight and heat. Good to use for a couple of months.
---