Tamatar Lamb Stew
This recipe is for a dry stew with a thickish tomato flavour enveloping the lamb. The tartness of the tomatoes are sweetened with the slow simmer style cooking, and should result in melt in the mouth lamb. The flavour is moorish and sublime when you get it right. When buying lamb for this recipe, choose round bone cuts with bone marrow as they generally work best in this dish.
---
Ingredients - Serves 6
1kg lamb, cut into preferred bite size pieces
3 tbsp full fat yoghurt
Pinch of turmeric and chilli powder
 Blend together:
1 large red onion, roughly chopped
½ tsp roasted cumin
½ tsp roasted fennel
4-6 garlic cloves
Olive oil
1 tsp black mustard seeds
3 cm cinnamon stick
4 cm young ginger, sliced diagonally and as thinly as possible
1 whole star anise
6 cloves
2 red and 2 green chillies, slit lengthwise and seeded
2½ heaped tbsp meat curry powder, mixed into a paste with about ⅔ cup water or use ½ jar Latasha's Kitchen Homestyle Curry Paste
3 sprigs curry leaves
2 Royal Blue potatoes, quartered
4 tomatoes, quartered
1 tbsp GF soy sauce
2 tsp salt
Some water as required to cover meat and potatoes, depending on the vessel you choose for Step 7
2-3 sprigs of fresh coriander leaves for garnishing (optional)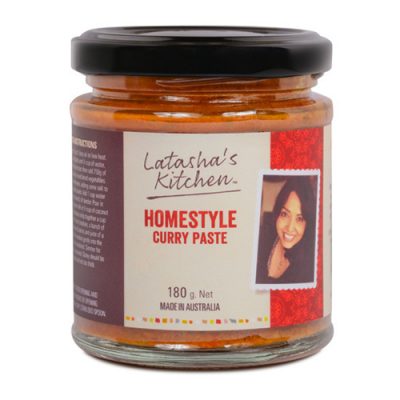 $18.90 – $113.40View / Buy Now
---
Method
Marinate meat in yoghurt, turmeric and chilli powders for at least ½ hour or more.
Heat up pot or wok (need some depth to allow contents to be turned with ease) and pour in about ⅓ cup olive oil. Swirl oil around so the following ingredients don't stick and burn. Needless to say, this won't be necessary with a non-stick pan.
When oil is hot (quick test − add 1 droplet of water and if it pops, then it is hot enough), add mustard seeds and cinnamon stick. Mustard seeds should pop and cinnamon stick should just unfurl. These steps flavour the oil. Lower heat setting to medium.
Add ginger, stir and when the ginger aroma is released, add blended mixture and star anise, cloves and chillies. Stir continually for couple of minutes.
Lower heat setting a fraction and add curry powder paste then curry leaves and continually stir for 2-3 minutes. Ensure mixture does not burn by adding a teaspoon or two of oil and a sprinkle of water if mixture starts to dry up. Cook until the mixture forms a thick-ish, moist and lightly-coated (in oil) paste, and is very fragrant.
Next, add lamb pieces. Turn up the heat a fraction, add soy sauce and half of the salt, and stir for 3-4 minutes, ensuring all pieces are coated with paste and sealed.
Place potato pieces on top as a layer, add just enough water to cover the lot, turn up heat and bring to boil, then immediately reduce heat to low.
Cover and simmer for 30 minutes, stirring once half way through. Then add tomatoes and rest of salt. Simmer for another 45 minutes, checking again after 25 minutes for a quick stir.
After 1¼ hours of cooking (from beginning of Step 8), check one piece of meat to see if it is cooked and if salt in gravy is enough.
Turn off stove when you feel meat is cooked to your liking, normally within 1½ hours at the most from beginning of Step 8. Add the coriander garnish.
TIPS: If there's too much gravy (which you might determine as early as the second stir), leave uncovered for the rest of cooking time. Turn up heat a fraction but stir more frequently as the risk is high of the curry catching on the bottom of pot. The aim is to reduce the volume of fluid.
---