Sri Lankan Fish Curry
A full bodied fish curry is a beautiful meal that can be prepared so quickly once you have all the ingredients sorted. I invite you to transform your next fish curry into something special with this gluten-free curry that cooks in a flash, and is both fragrant and powerful in flavour.
It's so nourishing, fairly light but absolutely full with rich sweet flavours, once you get the balance just right.
---
Ingredients − Serves 4
4 x firm white fish fillets approx. 200 gm each – swordfish, kingfish, mulloway or snapper are all wonderful
1 tsp ground white pepper
3 tbsp coconut oil
1 x 4 cm cinnamon stick or bark
1 heaped tsp brown or black mustard seeds
2 tsp fennel seeds, lightly pounded
½ tsp fenugreek seeds, lightly crushed
6 fresh sprigs of curry leaves
1 brown onion, very finely sliced
3 garlic cloves, bashed and finely chopped
3 long green chillies, sliced diagonally
1½ heaped tbsp Latasha's Kitchen Madras Curry Paste
4 ripe tomatoes, roughly chopped
2 tbsp concentrate tamarind puree
2 fresh pandanus aka screwpine leaves chopped into 3 cm pieces or use 5 g dried rampe leaves (buy frozen leaves from an Asian grocer while dried leaves can usually be found  in an Indian/Sri Lankan grocery store
2½ cups water
250 ml Ayam coconut milk
50 ml Ayam coconut cream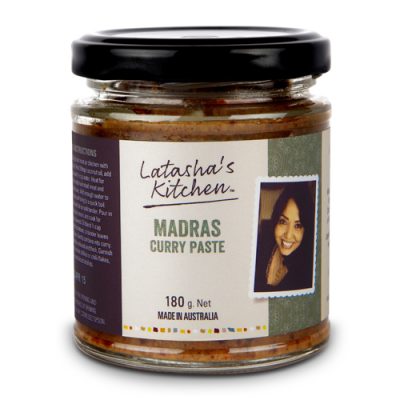 $18.90 – $113.40View / Buy Now
---
Method
Combine fish with Latasha's Kitchen Turmeric Spice Magic and ground white pepper in a bowl, mix well and set aside.
Heat coconut oil in a large saucepan over medium-high heat, add cinnamon stick, mustard seeds, fennel, fenugreek plus curry leaves stripped from 4 sprigs. Stir until aromatic and spices start spluttering.
Then add sliced onion, garlic and green chilli and keep stirring until soft and golden (4-5 minutes). Add Latasha's Kitchen Madras Curry Paste and chopped tomatoes.
Cook this mixture until the tomatoes begin to break down approx. 12 minutes on low heat.
Then add tamarind puree, 2½ cups water, fresh pandan leaves or dried rampe leaves and simmer until the flavours are well developed, approx. 12 minutes.
Next add fish and coconut milk and simmer for 5 minutes until just cooked through, before adding coconut cream and final seasoning as required.
Scatter with curry leaves from the remaining 2 sprigs and enjoy with hot steamed basmati rice, pappadums and lime pickle.
---