Lamb Dhansak
A rich, healthy, delicious curry contributed by the Parsis. Most recipes use pumpkin and red lentils. However I like using a variety of lentils and a mix of sweet potato and pumpkin. This recipe also has potential as a hearty vegetarian weekday meal using chunky pieces of corn on the cob and root vegetables like kohlrabi and turnips to replace the meat.
There are lot of recipes for Lamb Dhansak, but the main things to remember are:
It is meant to be hot, sweet and sour.
Don't leave the fresh green chilli out of the lentils.
Make sure you use large chunks of lamb so it doesn't disintegrate into the lentils.
Use whatever combination of split lentils or peas (ie green, brown or yellow) you like. It will not make a huge difference to the end result.
Cook this as a one-pot stew and eat it with steamed rice or couscous.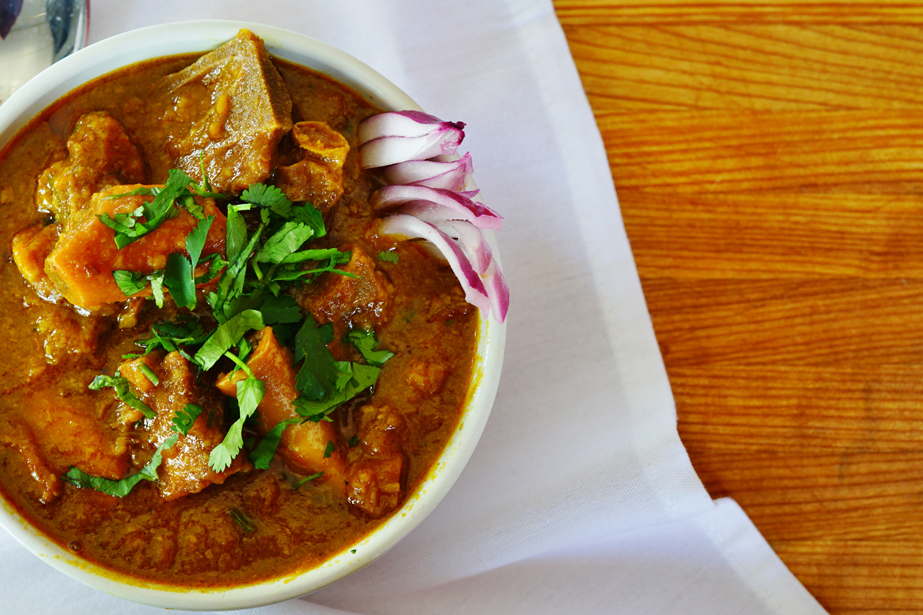 ---
Ingredients − Serves 5 to 6
Lamb Dhansak
1 kg boneless lamb shoulder, diced into large chunks or mixed with lamb shoulder chops including marrow
Oil
2 medium red onions, finely chopped
5 cm cinnamon stick
1 bay leaf
1 star anise
Juice of ½ lemon
Salt to taste
2 ripe tomatoes, diced
3 cups boiling water or hot stock
Lentil Mixture
A few slices onion
1 green chilli
1 tsp garlic paste
½ tsp ginger paste
½ tsp fenugreek seeds
½ tsp fennel seeds
½ cup yellow, green, or brown split peas
½ cup red lentils
Pinch of chilli powder
Pinch of asafoetida
1 tsp coriander powder
¼ tsp cumin powder
½ tsp turmeric powder
300 g diced sweet potatoes or pumpkin (or a mix)
1 litre water or stock
Wet Paste – blend together
1 cup of fresh coriander leaves and stems
½ cup mint leaves
1 tomato
Juice of ½ lemon
1 tbsp oil
Dhansak Masala Dry Spice Mix
6 whole green cardamoms
1 tsp coriander seeds
½ tsp whole black peppercorns
1 tsp fennel seeds
1 tsp cumin seeds
6 cloves
1 tsp black mustard seeds
½ tsp freshly grated nutmeg
2 mace
1 tbsp dry kasoori methi leaves (fenugreek leaves)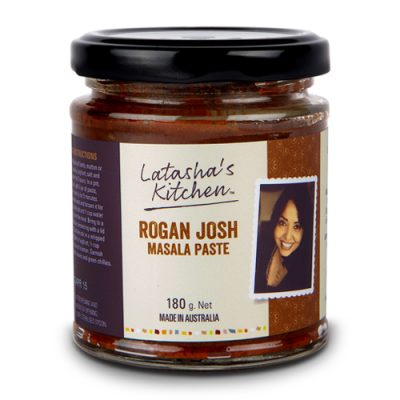 $18.90 – $113.40View / Buy Now
---
Method
Pre-heat a fry pan. Add the Dhansak Masala dry spice mix ingredients, one at a time and toast until aromatic being careful not to burn the delicate nutmeg, mace and methi leaves. Cool spices, before grinding to a fine powder in a spice or coffee grinder.
Blend together all the ingredients for the wet paste and set aside.
Put all the ingredients for the lentil mixture in a deep pot with 1 litre of water or stock and bring it to a boil. Simmer for 1 hour or until the whole mixture is overcooked. Uncover and mash lightly with a wooden spoon to get a semi-smooth texture.
While the lentils are cooking, heat oil until hot in a deep casserole pot. Add cinnamon, bay leaves and star anise and fry until fragrant. Then add the two chopped onions, a good pinch of salt and cook on medium, stirring occasionally until onions are caramelised, approx. 15 minutes.
Add the blended wet paste mixture and finely ground dry spice mix and cook for another 10 minutes stirring regularly.
Then add diced lamb and fry until brown all over and well coated in the masala. Stir through the diced tomatoes then add the cooked mashed lentils from Step 3 and 3 cups boiling hot water or hot stock. Bring to a simmering boil, mix again, pop the casserole lid on and transfer into a pre-heated oven set at 180˚C convection oven or 160˚C fan forced. Cook for 2 hours.
Add lemon juice and adjust salt to taste.
Garnish with coriander leaves before serving with steamed rice or couscous.
TIP: Lamb Dhansak is even better left overnight to allow the flavours to infuse and mature.
---