Indonesian Turmeric Gado Gado
Try using Indonesian Turmeric Kari Paste as a sauce to pour over Gado Gado.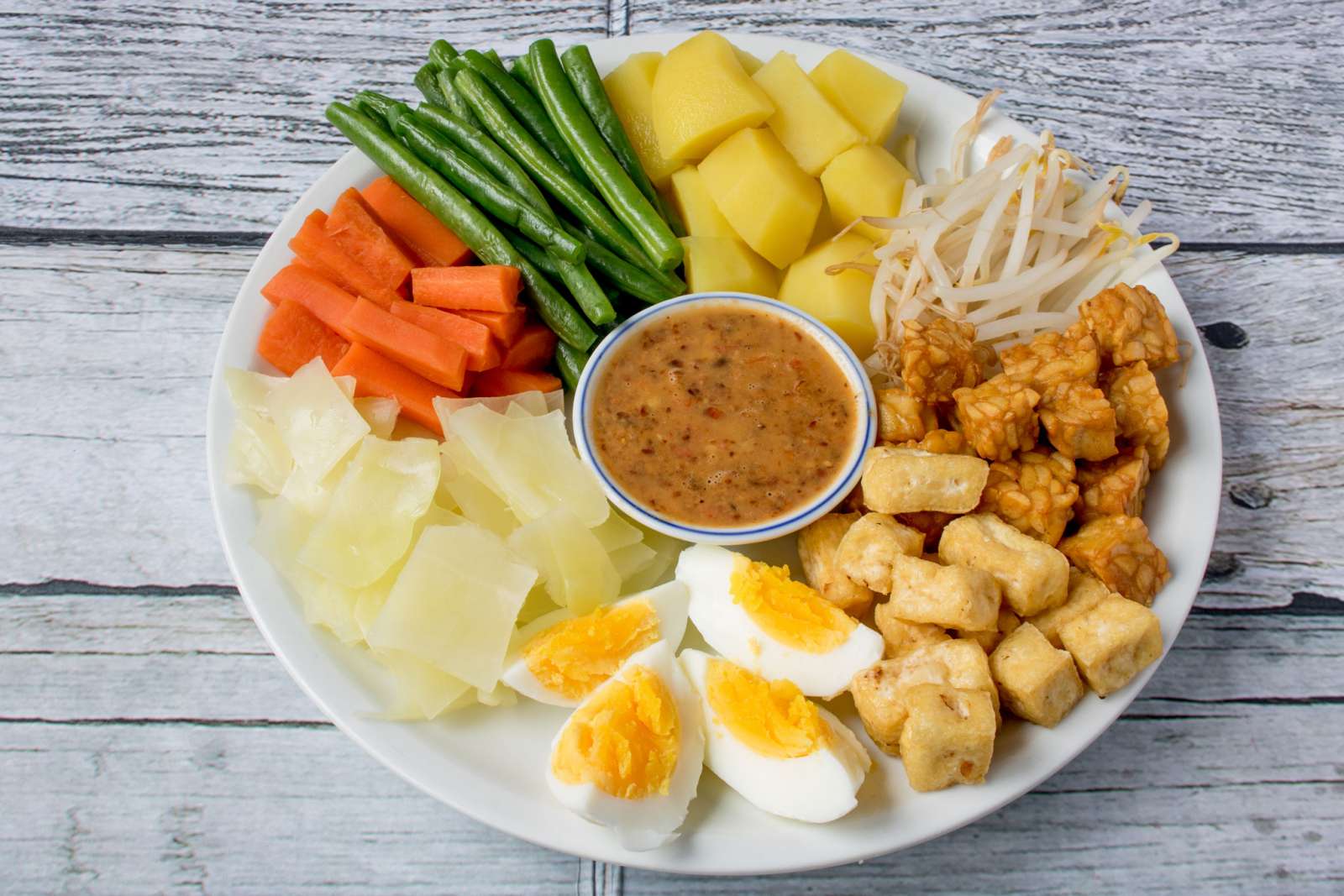 Prepare vegetables for Gado Gado and place on a serving tray.
Heat some coconut oil in a saucepan and add a few tablespoons Latasha's Kitchen Indonesian Turmeric Kari Paste and the same amount of water to make it into a sauce.
Add some coconut milk, a few tbsps 100% natural peanut paste, a tbsp chopped palm sugar, salt and tamarind juice to taste, simmer for 5 minutes then pour over prepared veggies.
Garnish with roasted crushed peanuts, fried shallots and garlic.
---
HOW WE MAKE OUR INDONESIAN TURMERIC KARI PASTE
The concentrated paste used in the recipe above can be purchased from all good stockists or online. Here's the how we make if for you in our kitchen using only the best fresh and imported ingredients and slow cooking them to perfection;
We start the preparation for this delicious paste the night before by soaking tamarind, so that we can squeeze out the flavour in the morning.

When we arrive back in the kitchen the next morning we are greeted by our delivery of fresh ingredients from the markets including fresh Australian brown onions, tomatoes, ginger, galangal, turmeric, garlic and chillies to name a few.

There's so many fresh ingredients in this paste so we get cracking immediately at a hectic pace. Everyone blends, crushes and minces like mad in separate machines.

One of the team members weighs the specific pure ground spice powders required and the aroma of cardamon, cloves, cinnamon and other gorgeous spices waft about as we chop and grind.

Meanwhile, Latasha takes a large amount of Fijian-grown shredded coconut (the best!) in a brat pan to make kerisik, ie. toasted then ground nutty coconut blend that is iconic to a kari.

Another team member dry roasts a large bag of Indonesian candlenuts, similar in look but not taste to macadamias. These nuts take a long time to roast and are then rapidly cooled before being crushed and crumbled in batches.

The blocks of tamarind soaked the night before are juiced using a whisk and sieve and other liquids are prepared, including lemon juice, crushed tomatoes, coconut and vinegar.

When everything is ready, a mix of Fijian coconut oil and sunflower oil is heated in a pot. Blended onions and turmeric powder are cooked on high heat with salt until it all caramelises. We then add all the crushed, blended and minced fresh ingredients in a specific order and cook on a high temperature to merge the flavours rapidly.

Next, our pure ground spice powders are added and this gives another dimensional level of complex bold flavours.

The temperature is lowered and the flavours are given time to build. Latasha tastes the mix and decides when the candlenuts, kerisk, and liquid ingredients are added in. The heat is put on high and the mix continues to cook until it is thick, creamy, nutty and mature at the required temperature for bottling.

A few teaspoons of tastings by all and whispers of enak sekali (meaning excellent or good) from an Indonesian team member and we start to pH test. The bottling process starts immediately once approval is given.

We take much delight in the vibrant yellow the fresh and ground turmeric has provided to this paste.
---